About Zina Vladimirsky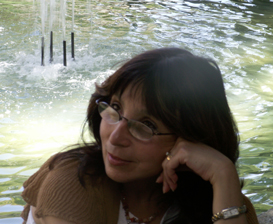 Zina was a very unusual person -- passionate, sensitive, empathetic, opinionated, generous, and open-minded.
She was born in Odessa (USSR) in 1949, immigrated to USA in 1991, and died in 2008 while returning from Europe to California. She is survived by her husband and sons, her mother, her sister and brother-in-law, her nephews and cousins, her many other loving relatives & friends. She touched many lives and is remembered fondly by those who knew her. Her colleagues at the Intel Corporation have collected funds to build a memorial bench in Shoreline Park (Mountain View, CA). Her dancing friends named a tango-club in Palo Alto after her. A Performing Arts Fund was established in her memory to support and underwrite cultural events at the Palo Alto Jewish Community Center.
We feel lucky that she was with us and we miss her terribly. But the light that she has brought us still glows despite her death.
---
Zina's Remembrance photo gallery.
---